This update continues improving pain points in our desktop user experience and includes many bug fixes.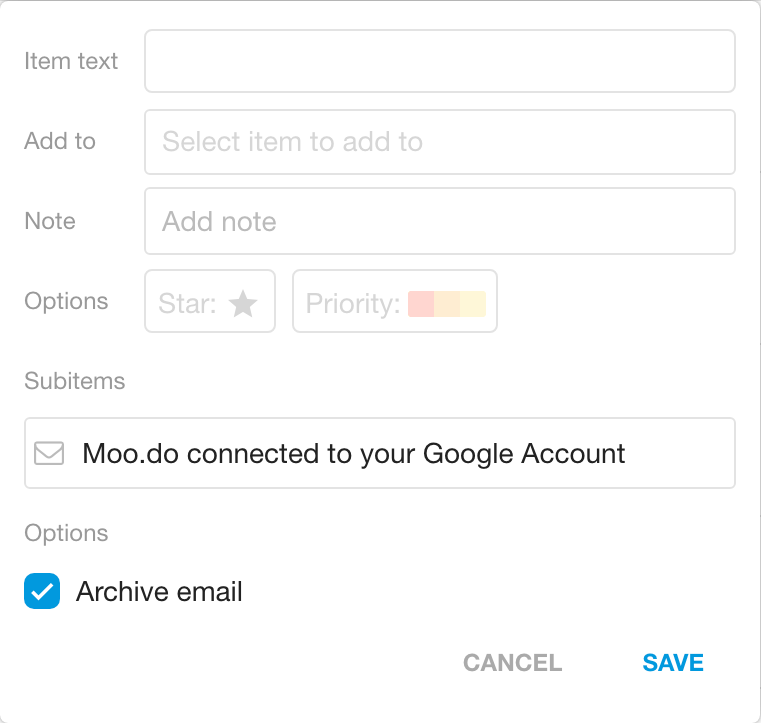 General
New Create Task for emails (pictured above): Add selected email(s) as child of the new task, set a note and priority, optionally add it to an existing item, and add it to the Outline.
New item menu has options for adding as a child of an existing item, note and priority
+ click on filters for the opposite filter, such as "Show only completed"
Fixed: Notifications firing for children of completed items
Fixed: Issues with @soon, @later, and @someday appearing in the incorrect Agenda block
Fixed: Flat search hiding children of completed items
Panes
Click and hold on item text in pane headers to show a menu of that item's siblings to zoom into them. In the Gmail pane that makes it easy to switch between accounts.
Calendar
Adding an item in the Calendar pane can optionally sync the new item with Google Calendar
Better error reporting for calendar syncing
Make read-only calendars easier to work with
Added a Calendars button to change which Google Calendars are visible in the Calendar pane, as well as toggle display of local non-Google Calendar items.
Desktop app
Downloading attachments shows progress and opens the attachment when it's done downloading.
Mobile
Fixed: Editing issues on Android with Enter and Backspace
Tapping on the sides of items on mobile no long collapses or completes items. Swipe left or right on an item to collapse or complete it.